Zane Grey Theater western tv shows
CLICK ON THE PHOTO TO BE TAKEN TO Zane Grey Theater western tv shows INFORMATION PAGE AND VIDEOS.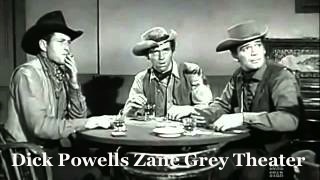 Dick Powell's Zane Grey Theatre, sometimes simply called Zane Grey Theatre, is an American Western anthology series which ran on CBS from 1956 to 1961. Created by Luke Short and Charles A. Wallace, Zane Grey Theatre was originally based on the short stories and novels of Western author Zane Grey, but as the episodes continued, new material was included. Aaron Spelling, wrote twenty Zane Grey episodes. The series opened each week with a prelude of the episode followed by the introduction, the firing of a gun, with the proclamation: "From out of the West, Dick Powell's Zane Grey Theater." Much of the musical score was handled by Four Star's Herschel Burke Gilbert.
Powell appeared as various characters in 15 of the 149 episodes and hosted the entire run. A half-hour program, Zane Grey Theatre debuted at 8:30 Eastern on Friday, October 5, 1956, and ran until the end of the 1960-1961 season, when Powell switched to NBC for a new hour-long anthology of drama and comedy called The Dick Powell Show, which he maintained until shortly after Powell's death from cancer. Spin-offs
Zane Grey Theatre was ground-breaking in that five episodes were developed into subsequent series: Trackdown (from "Badge of Honor") starring Robert Culp as Texas Ranger Hoby Gilman, Johnny Ringo (from "Man Alone"), starring Don Durant, both on CBS, The Rifleman (from "The Sharpshooter") with Chuck Connors as Lucas McCain on ABC, The Westerner on NBC (from "Trouble at Tres Cruces"), starring Brian Keith as Dave Blassingame, and Black Saddle (from "Threat of Violence") with Chris Alcaide instead of subsequent series star Peter Breck as the gunfighter-turned-lawyer Clay Culhane) on ABC.
Source: http://en.wikipedia.org/wiki/Dick_Powell%27s_Zane_Grey_Theater
In addition, Wanted: Dead or Alive, with Steve McQueen playing the bounty hunter Josh Randall, was a CBS spinoff of Trackdown, and Law of the Plainsman, starring Michael Ansara as a Harvard-educated, Native American U.S. Marshal, was an NBC spin-off of The Rifleman.
Wild West Toys American made toys. Sponsors this site and rounds up western movies and TV shows from all over the web for you to watch here for FREE . Classic western TV series episode shows to watch free. Complete with Cowboy boots, saddles, cowboy hats, Colt 45 smoke, Old West Towns, fast horses, Wells Fargo offices, Stagecoach stations, runaway wagons, outlaws, bandits, Sheriffs, Marshals, Fancy belt holster rigs, guitars, Cowgirls, singers, Levis, campfires, chuckwagons, cattle drives, wagon trains, cactus, Rustlers, Good Guys, Bad Guys, Ranches, Chase scenes, Deserts, Mountains, Forests and everything else great television westerns always kept us entertained with when we were kids growing up and needed good solid Heroes .