Tate western TV show episodes watch free online
CLICK ON THE PHOTO TO READ INFORMATION AND WATCH VIDEOS OF THE Tate western TV show.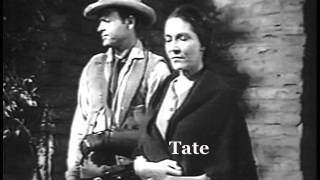 Western television series Starring David McLean. Tate is an American Western television series originally airing on NBC from June 8 until September 14, 1960. It was created by Harry Julian Fink, who wrote most of the scripts, and produced by Perry Como's Roncom Video Films, Inc., as a summer replacement for The Perry Como Show. Richard Whorf guest starred once on the series and directed the majority of the episodes. Ida Lupino directed one segment. Tate roams the Old West as a bounty hunter-gunfighter for hire but is picky on who he will work for. This show was different because Tate had an arm he had lost use of during his fighting in the civil war. Wonderful guest stars include. Julie Adams, Chris Alcaide, Patricia Breslin, James Coburn, Robert Culp, Royal Dano, Ted de Corsia, Louise Fletcher, Peggy Ann Garner, Jock Gaynor, Martin Landau, Mort Mills, Warren Oates, Paul Richards, Bing Russell, Robert F. Simon, Vaughn Taylor, Warren Vanders, Peter Whitney, Don Wilbanks and Robert Redford. There are only 13 episodes of this western TV show. Watch Tate the western TV show free online.