Cisco Kid western tv show FREE
Duncan Renaldo was in his 50s and Leo Carrillo was almost 70 years old when he started playing the part of Pancho in The Cisco Kid western TV series.
Watch The Cisco Kid and Pancho for free .Wild West Toys American made toys. Sponsors this site and rounds up western movies and TV shows from all over the web for you to watch here for FREE . Classic western TV series episode shows to watch free. Complete with Cowboy boots, saddles, cowboy hats, Colt 45 smoke, Old West Towns, fast horses, Wells Fargo offices, Stagecoach stations, runaway wagons, outlaws, bandits, Sheriffs, Marshals, Fancy belt holster rigs, guitars, Cowgirls, singers, Levis, campfires, chuckwagons, cattle drives, wagon trains, cactus, Rustlers, Good Guys, Bad Guys, Ranches, Chase scenes, Deserts, Mountains, Forests and everything else great television westerns always kept us entertained with when we were kids growing up and needed good solid Heroes .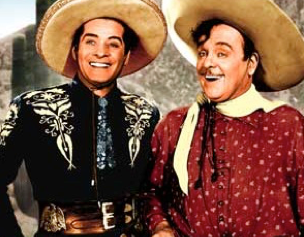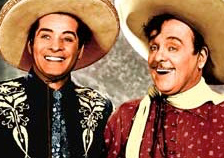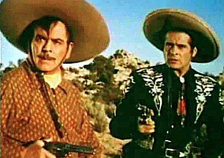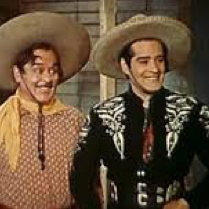 The Cisco Kid is a half-hour American Western television series starring Duncan Renaldo in the title role, The Cisco Kid, and Leo Carrillo as the jovial sidekick, Pancho. Cisco and Pancho were technically desperados, wanted for unspecified crimes, but instead viewed by the poor as Robin Hood figures who assisted the downtrodden when law enforcement officers proved corrupt or unwilling to help. It was also the first television series to be filmed in color, although few viewers saw it in color until the 1960s. The central character was created by the American short story author O. Henry in "The Caballero's Way", published in 1907 in the collection Heart of the West. Radio, television, and films have depicted the Cisco Kid as a heroic Mexican caballero, but in the original story, the Kid is non-Hispanic and a real, unusually vicious outlaw. The character was adapted as the radio drama The Cisco Kid in 1942–1955. Jackson Beck played the title role 1942–1945, and Jack Mather from 1946–1955.
The TV series began production in 1949, and was filmed by ZIV Productions at the Ray Corrigan Ranch in Simi Valley in Ventura County, California. Renaldo, a native of Spain, and Carrillo, a native of Los Angeles, were the first regular Hispanic television stars. (Desi Arnaz, Sr, of Cuban descent, went on the air with his wife and co-star, Lucille Ball, in I Love Lucy a year later.) When the series began, Carrillo was already 70 years of age; Renaldo, 46. Part of the humor of the series is reflected in Carrillo's mangling of the English language. Pancho's catch-phrase, when amused by Renaldo, was a drawn-out "Ohhh, Ceesco!" Viewers also became acquainted with the characters' horses, Cisco's Diablo and Pancho's Loco.
The program, somewhat similar to The Lone Ranger, aired via syndication from 1950–1956. It was originally filmed in 16 mm Kodachrome, later in 35 mm when the network owned-and-operated stations preferred the higher quality format. Because the 156 episodes were filmed in color, the series was in demand until the 1970s. However, most viewers of the original run saw the program in black-and-white. In 1956, the year the original run ended, only 0.05 percent of U.S. households with a television set had a color set, and 10 years later only 9.7 percent had a color set.
The Cisco Kid was nominated in 1953 for an Emmy Award for children's programming. By 1955 it was the most popular filmed television series among American children.
In the 1960s, the series was distributed by Walter Schwimmer with the ZIV Television logo deleted from the opening/closing credits and replaced with a title card still: "A Walter Schwimmer Presentation."
Guest stars
A number of recurring guest stars on The Cisco Kid later had television series of their own:
Tristram Coffin appeared in nine episodes as banker Tom Barton. He later portrayed the real Thomas H. Rynning, first commander of the Arizona Rangers, in the syndicated series 26 Men (1957-1959), with co-star Kelo Henderson.
William Fawcett appeared seven times as "Grampaw" between 1953 and 1956, at which time he joined the cast of NBC's Fury in the role of cantankerous Broken Wheel ranch hand Pete Wilkey.
Gail Davis appeared five times on The Cisco Kid in the role of Ruth Drake. First, however, she portrayed Nancy King in the 1950 episode "False Marriage", the story of a young woman planning to marry a gangster named Duke Ralston played by Robert Livingston. Nancy's uncle, played by Russell Hicks, asks Cisco to help him to halt the pending marriage. Davis's co-star on her Annie Oakley series, Brad Johnson, appeared once on The Cisco Kid as Johnny in the episode "Water Toll" on November 5, 1951.
Other guest stars included:
Forrest Taylor ten times as a sheriff
I. Stanford Jolley ten times as Gus Brown
Kermit Maynard nine times as Albuquerque Jones
Phyllis Coates four times as Marge Lacey
Lyle Talbot four times as a judge
Myron Healey five times as Don White
Robert J. Wilke three times as Barney
Robert Blake twice as Alfredo
Glenn Strange twice as Blake
Sheb Wooley twice as Bill Bronson
Ed Hinton as an outlaw in "Gold Strike" and as Muley in "Caution of Curley Thompson" (both 1954)
Denver Pyle twice as an unidentified bank robber
Russ Conway as E.W. Akers in "The Ventriloquist"
Iron Eyes Cody twice as the Indian Chief Big Cloud
Gloria Talbott twice as Amelia Lawrence
John Doucette twice as Sandy Harris
Source: wikipedia.org